How did you become a biological control practitioner?
Share your career path with those interested in becoming a biocontrol practioner!
A question IOBC regularly receives is what a person has to study to become a biocontrol practitioner. There is no straightforward answers to this questions as there are many roads to obtain a position in biological control.
If you are willing to share your own career path with those interested in becoming a biocontrol practioner, please send your information to the IOBC Secretary General. Just a few sentences will do! Perfect would be the addition of a nice photo of you working in the field or a portrait picture.
How to Become a Biological Control Practitioner: Examples of Careers
Bruno Zachrisson, Panama, has been interested in entomology since he was a student of biology at the Federal University of Paraná (Curitiba, Brazil), where he completed a master's degree in 1987 under the supervision of Dr. Luis Amilton Foerster. He then returned to Panama and joined the Agricultural Research Institute of Panama (IDIAP) as an entomologist. Next, he began the doctoral program at the Escola Superior de Agricultura ̈Luiz de Queiroz ̈ (ESALQ- University of São Paulo, Piracicaba, Brazil). After obtaining his PhD degree in 1997, supervised by Dr. José Roberto Postali Parra, he has working for 32 years as an entomologist at IDIAP and his research is aimed at the mass rearing and multiplication of insects pests and natural enemies, mainly eggs parasitoids (Telenomus podisi and Trichogramma pretiosum) in tropical agroecosystem. He is now a professor of the entomology master program at the University of Panama, with courses in insect ecology, biological insect control and integrated pest management. In addition, I´m a guest professor in the postgraduate Plant Protection program at the São Paulo State University "Mesquita Filho" (UNESP-Botucatu), teaching biological control in tropical agroecosystem.
https://www.researchgate.net/profile/Bruno-Zachrisson
Carlos Vásquez initiated his studies as Agricultural Engineer at Lisandro Alvarado Centroccidental University (UCLA) in Barquisimeto, Venezuela, supported by Professors José Morales Sánchez and José Santos Gallardo. He started working on biocontrol of the fall army worm, Spodoptera frugiperda using the egg parasitoid, Telenomus remus. Soon after, other studies were initiated together with a Brazilian researcher, Dr. Ranyse Querino da Silva such as taxonomy and parasitism by Trichogramma. At that moment, love for biological control were just beginning to grow. After that, I did a Master and then a Doctorate in Entomology and ventured into the study of phytophagous and predatory mites supervised by two great Latin American researchers, Dr. Orlando Aponte (Venezuela) and Dr. Gilberto de Moraes (Brazil) and to date I remember their lectures and guidance, and continue to share a great passion for the field of biological control. Currently, I work as associated professor at the Technical University of Ambato in Ecuador, where I teach Entomology and Acarology. There are many challenges that arise when you start a career in biological control, but the perseverance and certainty that you are doing what you like are the greatest motivation.
https://www.researchgate.net/profile/Carlos-Vasquez-8
Maria R. Manzano: I studied Biology at Universidad del Valle in Colombia and I worked during my undergraduate studies in taxonomy of aquatic bugs, all of them are predators, so it was my first approach to biological control. Later, I did my MSc and PhD at Wageningen University and I worked on biological control of whiteflies using parasitoids. During my PhD I was very lucky and I had the opportunity to work with two remarkable entomologists: Joop van Lenteren and Cesar Cardona (CIAT, Colombia). Presently I teach Biological Control and IPM at Universidad Nacional de Colombia in Palmira (UNALP). I coordinate the research group "Tritrophic Interactions" and with the participation of several undergraduate and graduate students we do research on both biology and biological control of pest insects of vegetables crops and orchards in Colombia. Welcome if you want to join us!
https://www.researchgate.net/profile/Maria-Manzano-3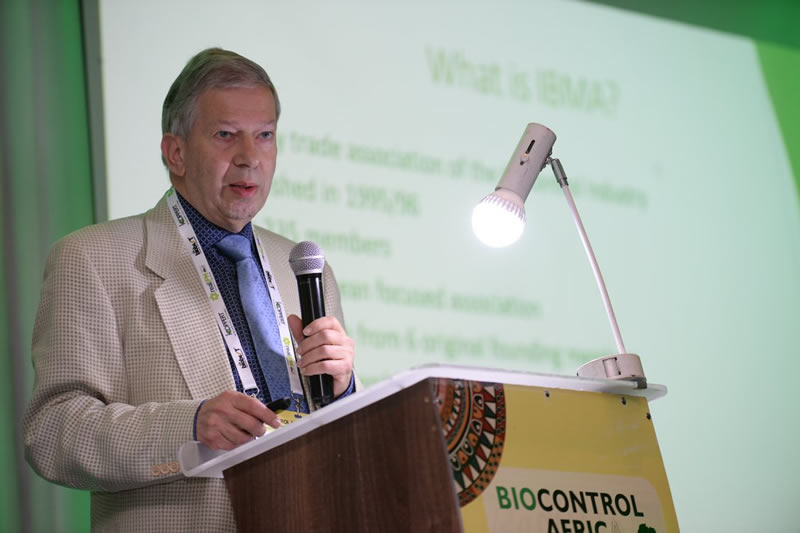 Willem Ravensberg holds a MSc in Biology (Leiden Univ. the Netherlands (1981) based on projects focused on entomology and IPM in apples, and a PhD (Wageningen Univ., 2010) with a thesis on "The development of microbial pest control products for control of arthropods: a critical evaluation and a roadmap to success." He began to work in 1981 at Koppert BV, then a small producer of natural enemies for greenhouse pests. He established the R & D Department, and with the research team, selected and developed a range of natural enemies: predatory mites, midges and bugs, and parasitoids, including quality control system for the final products. Later, entomopathogenic nematodes and microbial agents were added to the activities of the company. In 1999, Willem headed the newly established R & D Dept Microbials. Willem has been strongly involved in the registration of invertebrate biocontrol agents, and even more in the registration of microorganisms and natural substances as plant protection products, in the EU and in other countries. He has also been involved in activities of the International Biocontrol Manufacturers Association (IBMA), Further, Willem was one of the founders of BioProtection Global, a federation of regional biocontrol trade associations. Currently, Willem is Sr. Corporate Governmental and Regulatory Manager at Koppert Biological Systems in the Netherlands.
https://www.researchgate.net/profile/Willem-Ravensberg
M. Fernanda Cingolani started to be interested in becoming a biologist in her late teens travelling around Argentina, when she began to be fascinated by nature and all the benefits to humans provided by the natural environment. She became a biocontrol enthusiast by observing insects and their trophic interactions, and decided to study Biology. She got a major in Ecology, and later got her Doctoral degree in Natural Sciences at the National University of La Plata (UNLP), Argentina. She is passionate about researching and spreading the use of biological control agents as alternatives to pest management that minimize the use of pesticides. In particular, she is devoted to the study of the interactions among parasitoids, mainly those that attack stink bugs. One of the things she loves the most of her career is the variety of activities that it involves, such as performing laboratory experiments, field sampling, and exchanging experiences with farmers and colleagues from different countries, which she values as a tool to try to comprehend more deeply the complex interactions among individuals.
https://www.researchgate.net/profile/Fernanda-Cingolani
Kedibone K. Mofokeng: I obtained my undergraduate qualification from the University of Johannesburg, in 2011, specializing in Geography and Environmental Management. I went on to complete my Honours at the University of South Africa in Environmental Management. My research project for my Honours was on the biological control of Opuntia spp. and that sparked my interest in the field. I was also an intern with the Department of Environmental Affairs at the time, shadowing a Biocontrol Officer. The Agricultural Research Council-Plant Health Protection (ARC-PHP) currently employs me as a Research Technician, where researchers work on a variety of biological control projects ranging from waterweeds to terrestrial weeds, using insects, mites and pathogens. I am currently rounding up my Masters thesis in Entomology from Rhodes University, which is on the impact of hybridisation of Dactylopius opuntiae lineages on the efficacy of biological control.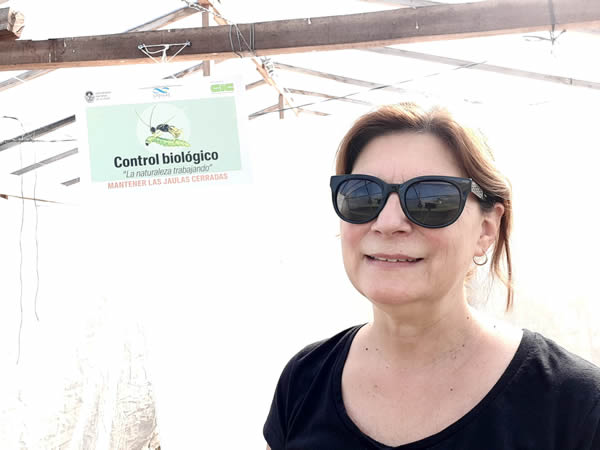 María Gabriela Luna studied Biology, with a major in Ecology, and later got her Doctoral degree in Natural Sciences at National University of La Plata (UNLP), Argentina. She was a postdoctoral fellow at University of California at Irvine, USA. She is a nature´s lover since she is a child when spent vacations at her family´s farm or travel throughout stunning natural places of Argentina. Her interest in agroecology, entomology and biological control led to study beneficial insects to evaluating their potential as natural enemies of pests in field (soybean, sunflower, pastures) and protected (tomato, eggplant) crops. She actively spreads the science of biological control by teaching and working with farmers and other colleagues in Argentina. She is a researcher at CEPAVE (CONICET-UNLP-asociado CICPBA), La Plata, and as professor at UNLP and National University of San Antonio de Areco (UNSAdA), Argentina. As the most valuable things that she considers in her career is the opportunity to have learned and then, shared knowledge as a biocontrol practitioner with research teams in Argentina and abroad.

Petra Christiansen-Weniger: I studied agricultural sciences (Göttingen and Kiel), did scientific work on aphid parasitoids (PhD at Kiel Univ. in Germany, post doc at Silwood Park, UK) and I followed additional entomological training at various places. I started my own business as a self-employed consultant for biological plant protection in northern Germany after my career at the university. My service also includes the application of beneficial insects. The main focus of the requests for support concerns plants grown under glass: ornamental plants, vegetables and indoor greenery. Increasingly, consultancies related to outdoor plants are also added. After more than 20 years, my company BorbyControl includes 2 consultants and 2 persons who produce endemic beneficial insects for our clients. www.borby-control.de

Ulrich Kuhlmann started to be interested in becoming an entomologist in the early days when he joint his parents on hiking trips in various locations in Germany, Austria and Switzerland. As the occupation of an entomologist was not considered leading to employment, the parents suggested to do an internship at the Zoological Museum of the University of Kiel in northern Germany to find out if a study in biology is really a good idea or if a study in economy would be more appropriate. The internship confirmed the motivation to become an entomologist! During the biology studies, he joined CABI's Switzerland centre in 1989, where he completed his MSc and PhD, together with the University of Kiel, in the field of agricultural classical biological control. Afterwards, Ulrich completed a post doc at the University of California, Berkeley, USA. In 1997, he took over the leadership of CABI Switzerland's arthropod biological control research programme and became responsible for the development and management of several international agricultural classical biological research projects. In 2010, Ulrich became the Director of CABI in Switzerland, and moved on to his current position of the Executive Director, Global Operations, overseeing the management and operation of CABI at its eleven centres across Asia, Africa and Europe & the Americas. Alongside this role, Ulrich wanted to support the uptake of biological control and therefore started the open access CABI BioProtection Portal initiative, Ulrich is convenor of the International Working Group of Ostrinia and other Maize Pests which is the oldest global working group of IOBC.

Philippe C. Nicot studied at AgroParisTech in Paris, France, where he received a diploma of 'Engineer in Agronomy', with a major in Plant Protection. He carried on education in this field and obtained a Ph. D. degree from the Plant Pathology Department of the University of Wisconsin-Madison (USA). He then went to China as a postdoctoral fellow of the US National Academy of Sciences and worked for four years at China Agricultural University, conducting research in plant protection and teaching graduate and undergraduate students. He then returned to France to join the French National Institute for National Research Institute for Agriculture, Food and Environment (INRAE) as a research scientist in the Plant Pathology Unit of INRAE-Avignon. His research interests in the last 40 years have been focused on disease epidemiology and on the development of biocontrol solutions and their integration in IPM strategies for the management of diseases of fruit and vegetables. Much of this exciting work has been carried out in close cooperation with farm advisors and technical institutes, and through national and international collaborations with other research groups.
https://www.researchgate.net/profile/Philippe-Nicot

Cesar Rodriguez-Saona is a Professor (Full) and Extension Specialist in the Department of Entomology at Rutgers University. He obtained his bachelor's degree in Biology from the Universidad Nacional Agraria (Lima, Peru), where he studied the parasitoids of whiteflies in sweet potato. He then moved to the USA in 1992 to obtain his Master's degree in Entomology from Oregon State University, where he worked on the improvement of lady beetles as biocontrol agents. He obtained his PhD in Entomology from the University of California, Riverside (1994-1999). Before joining Rutgers University in 2005, he worked as a post-doctoral researcher at the USDA Cotton Research Lab. (1999-2001), University of Toronto (2001-2004), and Michigan State University (2004-2005). His research interests focus on conservation biological control with emphasis on the roles of plant volatiles in multi-trophic interactions.
https://sites.rutgers.edu/cesar-rodriguez-saona

Peter G. Kevan (Ph.D, University Professor Emeritus): My first experience in biocontrol was a summer job as an Insect Sampling and Rearing Aide with Agriculture Canada in the lab (now closed years ago) in Belleville, Ontario. I pursued my interests in zoology, entomology and then into botany through my undergraduate, graduate, and postdoctoral studies. Once at the Univ. of Guelph, my interests became more directed in agricultural research involving apiculture and pollination. The combination of those interdisciplinary interests lead me into the idea of using biological control agents as vectored by managed pollinators to the flowers of crops for their protection against insect pests and plant pathogens. My interests were encouraged by colleagues in plant and insect pathology, field and greenhouse crop agronomy, and applied ecology for agriculture in field and protected (greenhouse) systems. I think that being able to think outside conventional disciplinary boxes has allowed me to enjoy an amazing career. https://www.researchgate.net/profile/Peter-Kevan-2

Massimo Benuzzi graduated at the University of Bologna (Italy), in Agricultural Sciences in 1982. After graduation he continued collaborating on several projects of the Institute of Entomology (Prof. Giorgio Celli). Within these studies, he gained practical experience on the application of alternative, non-chemical strategies for pest control on fruit and vegetable crops. Since 1983 he participated in the activities of the Laboratory for the Rearing of Beneficial Insects of Cesena (Italy), starting the first experiences of biological control on strawberries in greenhouses. He was one of the founders of Biolab (now Bioplanet) in 1985, Witth Dr. Giorgio Nicoli, he published the first Italian textbook on biological control in greenhouses in 1988. In February 1996, he began working as IPM Product Manager at Intrachem Bio Italia (now BIOGARD), where he was responsible of the development of new biological control techniques, also for organic farming. Since 2013 he is the Technical Director of BIOGARD. With Prof. Vacante, he published a handbook on plant protection in organic farming in 2004, and the second, revised edition of this book will be published by the end of 2021.

Rogelio Trabanino: I am an entomologist graduate from Mississippi State University, and have been working at Zamorano University (Honduras) for 34 year of which the first 13 years my main duty was to develop IPM strategies for vegetables, fruits and cereals specially corn and sorghum. In 2000, I was asked to manage the biological control laboratory, but I had little experience rearing insects and no experience in growing microorganisms. So, I decided to learn and develop a production lab to generate marketable biopesticides. I travelled Central America and a little bit of South American helping farmer to make rational use of pesticidse through a course funded by the USAID. I realized there were no biological control products in the market, at least in this part of the world. This opportunity to travel and teach was great because at the same time I was learning, I was teaching students from Latin America about the importance of IPM and Biological Control. At Zamorano University we teach students how to produce, use and commercialize biological control products. We are exporting products to Nicaragua, El Salvador and Jamaica. In the last years we became involved in producing predatory mites and entomopathogenic nematodes. The university also provides technical assistance to producers, but the main task is to teach about 350 students of Latin America about the importance of biological control.
https://www.researchgate.net/profile/Rogelio-Trabanino-2

Helga Blanco Metzler: In 1981 I joined the Tropical Research and Training Centre (CATIE) to work in the Cropping Systems Project, a regional project where I had the opportunity to visit all Central America and collaborate with many colleagues on crop production and biocontrol. Once the project ended, I became part of the Integrated Pest Management Project, also at CATIE, and started my master's degree studies in IPM. In 1994 I obtained my PhD degree in Insect Ecology at the University of Edinburgh / Institute of Terrestrial Ecology, Scotland. I realized the need to understand pest behaviour and their interactions with natural enemies, the crop and the environment in order to manage insect populations. Later I got involved in numerous consultancies in management of pest problems, experiencing the pest-natural enemy imbalance. As a profesor and researcher at the University of Costa Rica, I lectured on biological control, organic agriculture and agricultural entomology at undergraduate and graduate levels. and supervised undergraduate and graduate theses. Current projects include the quantification of natural parasitism by Braconidae and Ichneumonidae in Spodoptera frugiperda larvae, and in the identification and quantification of Cnaphalocrosis spp. natural enemies in rice. In 1919 the University of Costa Rica awarded me the "María Eugenia Dengo Award" for my ethical and social commitment, originality and innovation, and the significance of my work with rural communities.
https://www.researchgate.net/profile/Helga-Blanco-Metzler

Ramon Albajes: I obtained a master degree in Agronomy in 1974 and then a PhD in 1978 at the Polytechnics University in Madrid. Next, I moved to Cabrils Experimental Station (Catalonia) to work on biological control of tomato pests and started to collaborate with the IOBC-Working Groups on Protected Crops, Temperate and Mediterranean Climates. In 1978 I moved to the University of Lleida (Catalonia) and became Full Professor of Entomology in 1988, but I continued to cooperate with my colleagues in IRTA Cabrils with biological control of protected crops. In parallel I have been working on Biological Control, IPM and Landscape Influence on Arable Crop Insects. In this framework I did, among others, research on Non-Target Effects of Bt Maize on entomofauna. From 1990 to 2003 I convened the Working Group on IPM in Protected Crops, Mediterranean Climate. Then I contributed to IOBC management in the Council, Treasurary and Auditing Committee.
https://www.researchgate.net/profile/Ramon-Albajes

Barbara Barratt was born and educated in the UK, BSc in Zoology and PhD in Entomology both Durham University. She went to New Zealand to a post-doc position in 1978 working on pests of clover in tussock grassland, and joined the staff of MAF Technology at Invermay near Dunedin in the South Island, where she has been ever since. Science restructuring in the early 1990s landed Barbara in AgResearch, a pastoral agriculture research institute. Initially she worked on pasture pest management using pesticides, then got interested in biological control, especially non-target impacts. She continues to work in that area, the main focus being on science that underpins the needs of our regulators (Environmental Protection Authority NZ) and supports them in making robust decisions on environmentally safe biological control introductions. Barbara found her involvement with IOBC Global on the Executive Committee extremely enjoyable and rewarding, and a privilege to work with such talented and interesting people who are committed to promoting safe and effective biological control.
https://www.researchgate.net/profile/Barbara-Barratt

Karina Punschke Valerio began her studies in Biochemistry at the University of the Oriental Republic of Uruguay. Until 2012, she was in charge of the collection of Rhizobia strains and other growth-promoting microorganisms, and of the quality control and registration of commercial inoculants. From 2012 to the present, she has worked in the Input Control Division of the Ministry of Livestock, Agriculture and Fisheries of Uruguay, in the registration, control and elaboration of the Legal Framework and Protocols of commercial formulations of biological control agents for agricultural use. She participates as a delegate designated by Uruguay in the Working Group on Biological Control of the Plant Health Committee of the Southern Cone (COSAVE) and the BIOPLAGUICIDES Group of the Codex Sub-Committee on Pesticide Residues. She collaborates in National and International Courses and Seminars giving an integrated approach to the implementation of biological control agents in agriculture, promoting a better adoption of biocontrol and environmental sustainability.

Jan van der Blom frequently worked at a farm as a child and has been a nature lover all his life. He tudied biology at Utrecht University (The Netherlands) and specialised in applied entomology. For his MSc, he worked on behaviour of bumblebees and after that on IPM in pear orchards. His PhD (1991) was focussed on social behaviour of honeybees. Between 1993 and 2003, he worked as head of the R&D Dept. of the Spanish subsidiary of Koppert Biological Systems, dedicated to the introduction of bumblebees for pollination in tomato crops and the development of biological control systems in Spanish greenhouses. Since 2003, he works at COEXPHAL (Association of Horticultural Producers and Exporters in Almeria, Spain), as the coordinator of the Dept. Production Techniques. This Dept. was started to promote biological pest control, with the aim to diminish pesticide use and is now focussed on sustainability of greenhouse horticulture in general. COEXPHAL has participated in many research projects, as a link between the horticultural producers and a range of research institutes. The Dept. has played an important role in the massive implementation of biological control in Almería, mostly through courses and study days, directed to growers and field technicians. The major step towards biological control applications in Almeria was finally achieved in 2007.

Carmen I. Castillo Carrillo: I did my undergrad degree in Agronomy at the Central University in Quito, Ecuador. I chose it to start my path in Entomology. My life-time affairs are insects. I got focused on agricultural pests and participatory research for my early professional years. I always liked agroecology and IPM but during my Master's degree at Wageningen, Netherlands, I was lucky to work with Prof. Joop van Lenteren and enter to the fascinating biocontrol world. At Washington State University, under Prof. Willliam Snyder, we identified more than 60 natural enemies of Bactericera cockerelli, the potato psyllid, living on the weed Solanum dulcamara in the Pacific Northwest of the United States. Back to my home country, I research about the interactions between plant pathogens, insect vectors and natural enemies, and strongly promote biological control in Ecuador.
https://www.researchgate.net/profile/Carmen-Castillo-Carrillo

Ximena Cibils-Stewart: Born and raised in Uruguay SA, Ximena has always been fascinated with entomology. In fact entomology has been the causation of her professional experience across different continents (USA –NZA–Australia), as well as the reason why Ximena returned home (Uruguay). Specifically, Ximena earned a double B.Sc. in Biology and Entomology at Iowa State University (ISU-2010) and an MSc in Entomology at Kansas State University (KSU-2014). During her BSc she worked with corn rootworm resistance management specifically testing pathogen susceptibility, and associated fitness costs. Her MSc contributions helped to fill knowledge gaps regarding the effects of within-plant distribution of prey on predator communities in winter canola and helped determine whether winter canola is acting as a source or as a sink (ecological trap) to beneficial insects and pollinators. Whilst, obtaining a permanent position as an associate scientist in entomology at INIA, Uruguay´s National Institute of Agricultural Research (http://www.inia.uy/en) in 2014; she is currently finishing her PhD in Australia at the Hawkesbury Institute for the Environment (HIE) at Western Sydney University (2021). At INIA Ximena's work has been majorly linked to the breeding programs of legumes and forage crops; specifically disentangling interactions between Epichloë-endophyte and insect-pests in Uruguay. Epichloë-endophytes are symbionts that produce antiherbivore-alkaloids (natural insecticides). Her PhD project extends this and focused on how interactions between silicon (physical defense), Epichloë-endophytes, and arbuscular mycorrhizal fungi might increase plant resistance against herbivorous pests. Her career goal is to undertand natural available defenses in plants to better incorporate them into insect management programs.
https://www.researchgate.net/profile/Ximena-Cibils-Stewart

Takumasa Kondo: Born in Colombia. I began my career at Tokyo University of Agriculture (TUA) (1989-1996), where I did both my undergraduate and Master´s degree under Dr. Shozo Kawai. While at TUA, I spent a year as an exchange student at Michigan State University (1992-1993) in the department of Entomology. Later, I obtained a Ph.D. degree from Auburn University (1997-2003) where I studied under Dr. Michael L. Williams. Immediately after graduating, I went to work on a postdoc at UC Davis (2003-2007) with Dr. Penny J. Gullan. I studied the taxonomy of scale insects (Hemiptera: Coccomorpha) during my career. In 2008, I returned to Colombia where I work on the integrated pest management (IPM) of insect and mite pests of tropical fruit crops at the Colombian Agricultural Research Corporation-Agrosavia, with emphasis in biocontrol. I am interested also in invasive insect species. It has been a good experience working with IOBC members.
https://www.researchgate.net/profile/Takumasa-Kondo

Patrick De Clercq: From my early childhood on I was fascinated by nature. Also given my countryside background, I chose agricultural engineering for my university studies in Ghent (Belgium) and ended up doing my masters thesis in the field of crop protection. I did my thesis experiments in Tunisia, on Bemisia tabaci as a virus vector in tomato. That summer of 1986 was a real eye-opener: I was appalled by the huge amounts of pesticides that were (unsafely) used in the local horticulture. Nonetheless, the entomology virus had gotten to me and after my studies, I got the chance to start my doctoral research at Ghent University. My then professor offered me a choice of a number of insecticide topics for my PhD and perhaps as he could spot my lack of enthusiasm, he finally said: "oh yes, there's also this predatory bug that we are keeping somewhere on a shelf in the lab". That predatory bug, a Podisus species, became the focus of my PhD on biological control and later on I would continue to work on predatory pentatomids for my post-doc. Presently, I am mainly working on predatory insects and mites used in augmentative biological control.
https://www.researchgate.net/profile/Patrick-De-Clercq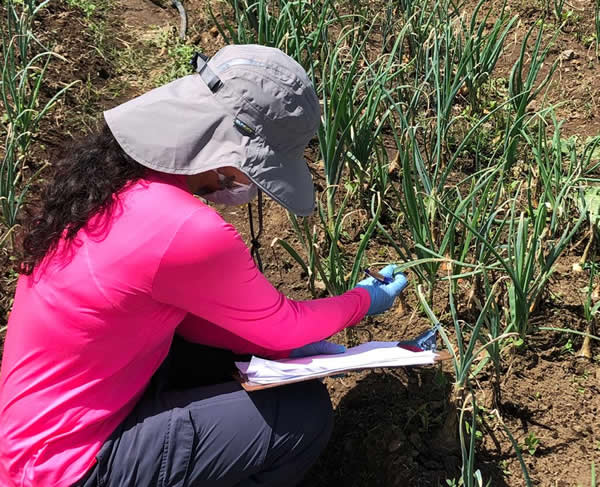 Rossy Morera Montoya: I studied Agronomy at the University of Costa Rica. Since I was a student, I worked as an assistant at the Museum of Insects where I felt in love with insects, their taxonomy, and behavior. When I graduated, I started working at CIPROC (Center for Crop Protection Research for its acronym in Spanish) where I experimented with different crops and pests. Entomological interactions taught me about the importance of ecological and landscape elements in the field. Then I worked for a company that imported and sold biological control agents. My approach, after testing several imported organisms, was mass rearing production of endemic biological control agents, in addition to their quality control, that is why in 2015 I began to work in the National Fruit Fly Program. My research focused on improving the quality and mass breeding of the parasitoid Diachasmimorpha longicaudata, as well as exploring different tools for the control of Ceratitis capitata. I obtained my Master of Science with an Emphasis on Crop Protection at the University of Costa Rica and my thesis consisted of evaluating some entomopathogenic fungi as a tool for the control of C. capitata pupae. Biological control and research are my passion, and currently, my main interest has become the conservation of endemic biological control agents within a landscape with agroecological management.
https://www.researchgate.net/profile/Rossy-Morera-Montoya

Guillermo "Willie" Cabrera Walsh: I first got involved in biological control in 1982 at the age of 16, while still in high school. I learned from an aunt of mine that there was a research laboratory near my school, and as I was considering a career in biology, I just rang the bell. It was the USDA-ARS- South American Biological Control Laboratory, directed by Hugo Cordo, who welcomed me very warmly. Hugo very unwisely said I could visit whenever I wanted, so I did. I would show up at all hours just to stare over the technician's shoulders, making a complete nuisance of myself, so he did the next least sensible thing, and put me to work. So I worked during the field season, initially as an ad honorem technician, for several years until I got my degree in biology in 1990 from the University of Buenos Aires, with a thesis on ecology of the cattle dung community. I was permanently hired at the lab in 1992. I worked on dung beetles, pest cattle flies, corn rootworms, and am currently working on biological control of weeds, mainly aquatic weeds.
https://www.researchgate.net/profile/Guillermo-Cabrera-Walsh

Yelitza C. Colmenarez initiated her studies at Lisandro Alvarado Centroccidental University (UCLA) in Barquisimeto, Venezuela, where she obtained an Agricultural Engineer degree. Thanks to the incentive of her professors, she started working on insect taxonomy, focusing on Hymenoptera. This first taxonomic contact with an important insect group, helped her to initiate her passion for applied biological control. She obtained her MSc and Ph.D. degrees at Sao Paulo State University (UNESP), Brazil, working on biological control. As part of her role at CABI, she has coordinated and implemented several biological control and IPM programmes in Latin America and the Caribbean, working with scientists, extension officers, and farmers, using participatory approaches looking forward to increasing the use and better adoption of biocontrol in those countries.
https://www.researchgate.net/profile/Yelitza-Colmenarez

Lisa Broekhuizen studied Biology at Wageningen University and got a MSc degree Biology with specialisation in Insect Plant Interactions. During her bachelor studies she got in touch with Entomology and did research with edible insects, such as the Black Soldier Fly. Working with insects provided her with much interesting information about insects and how to make practical use of them in various ways. Therefore she worked during her masters with Profs Joop van Lenteren and Vanda Bueno in Brazil on biocontrol of Tuta absoluta in tomato with Neotropical mirids in 2017. Her MSc internship took place at Koppert Biological Systems in the Netherlands, where she worked on biocontrol of stinkbugs. Currently she is working at the same company as a technical consultant for biological crop control in greenhouse vegetables, such as sweet pepper, tomato and cucumber. She advices growers on the use of biological control agents within Integrated Pest Management (IPM) programmes.

Martin Hill completed is undergraduate and postgraduate degrees at Rhodes University in a small agricultural town in the Eastern Cape Province of South Africa. During his undergraduate studies he read Rachel Carson's book Silent Spring and this sparked an interest in biological control. He completed his PhD at Rhodes University in 1995 on the biological control of Solanum sisymbriifolium. He worked at the Plant Protection Research Institute (PPRI) of the Agricultural Research Council in Pretoria from 1995 to 2002 where he focussed on the biological control of waterweeds, not only for South Africa, but also the great lakes of Africa. In 2002 he moved to Rhodes University as Head of Entomology from 2002. Currently holds the South Africa Research Chair Initiative chair in "Insects in sustainable agricultural ecosystems" and in 2017 he established the Centre for Biological Control at Rhodes University.
In 2020, Martin was elected as the President of IOBC Global. Martin's research interests include the biological control of invasive alien aquatic weeds and insect pests. He has worked extensively throughout Africa on the control of aquatic weeds such as Pontederia crassipes, Salvinia molesta and S. minima, Pistia stratiotes, Azolla filiculoides and A. cristata, and Myriophyllum aquaticum. Recent research includes the development of microbial agents (entomopathogenic fungi and viruses) for the control of pests in citrus, in particular Thaumatotibia leucotreata, and pests on other crops.
https://www.researchgate.net/profile/Martin-Hill-7

Dr Yulin Gao holds three degrees in entomology: B.Sc., Southwest University, Chongqing; M.Sc and Ph.D from Chinese Academy of Agricultural Sciences, Beijing. He was appointed as assistant professor, associate professor and somewhat later as full professor at the Institute of Plant Protection of Chinese Academy of Agricultural Sciences, Beijing, China, where works on biocontrol and IPM in potato and vegetable agroecosystems. His latest project concerns a co-edited a book on "Integrative Biological Control" with Drs Heikki Hokkanen and Ingeborg Menzler-Hokkanen.
https://www.researchgate.net/profile/Yulin-Gao

Vanda H.P. Bueno studied marine and general biology for her BSc at the Sao Paolo State University in Rio Claro. Next she obtained a MSc in biological control of caterpillars in eucalyptus forests and a Phd in biological control of pests in pastures at the University of Sao Paulo at Piracicaba. This was followed by a post-doc at the University of California at Berkeley stuying biological control of aphids in alfalfa with Dr. Ken Hagen. During her PhD work she was appointed as assistent professor and somewhat later as full professor at the Federal University of Lavras in Minas Gerais, Brazil, where worked on different biocontrol systems in the field and in greenhouses.
Her latest project concerns biocontrol of Tuta absoluta and other pests in tomato with Neotropical mirids.
https://www.researchgate.net/profile/Vanda-Bueno

Joop C. van Lenteren studied experimental biology at Leiden University, got a MSc in animal ecology and plant anatomy, then obtained a PhD in behavioural ecoloy and population dynamics.
During his thesis research he became interested in biological control and after his PhD, he started working on scientific and applied aspects of parasitoid-host releationships.
He always cooperated with growers/farmers and producers of biocontrol agents and, looking back after 50 years of work in this fascinating field of applied science, is more than satisfied with the many professional friendships developed and successes obtained.
https://www.researchgate.net/profile/Joop-Van-Lenteren